Description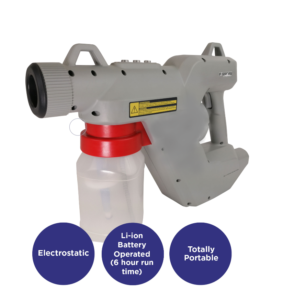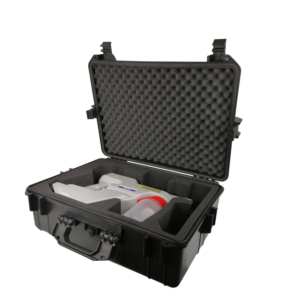 ELECTROSTATIC Disinfecting Sprayer
Product Code: SF-FG04-018
Why do you need the ELECTROSTATIC Disinfecting Sprayer?
Germs and bacteria are very quick to spread and settle in tight corners and hidden spots. Disinfecting effectively by hand takes a very long time and requires prohibitive costs. In addition, there are many areas that are difficult to disinfect properly, such as computer keyboards and telephones in offices, or checkouts in supermarkets or shops.
An electrostatically charged spray can reach the entire targeted area evenly, right down to the most hidden points.
The cloud of charged particles completely envelops the surface and sanitizes every part of it.
How does the ELECTROSTATIC Disinfecting Sprayer work?
Electromatic hygienisation allows to coat a surface quickly and evenly with a sanitising solution. we stock 2 types one of which is a medical grade sanitiser the other is fragranced with a bubble gum scent
The electrostatic applicator provides an electrical charge to the solution coming out of the nozzle. The charged molecules repel each other, so they keep an even distance from each other but, at the same time, they are attracted to the surface to be treated. The strength of the charged particles is greater than that of gravity, so they are immediately attracted by the surface and do not fall to the ground. The attraction therefore ensures that all the particles of the solution settle on the surface, thus creating a 360-degree coverage, without leaving out any areas.
Features and Specifications:
Productivity theoretical up to sq.m./h: 350
Tank with disinfectant: 1L
Nozzle shape: Full cone
Particle size: 40 / 80 / 100 μ
Flow rate: 45 (Nozzle for 40μm particles)77 (Nozzle for 80μm particles)138 (Nozzle for 100μm particles)
Tank automony: 22 / 12 / 8 min
Solution pump: 20W
Power supply: 18 V Li-ion vattery 2000 mAh (Standard)  and 18 V Li-ion battery 4000 mAh (optional)
Ideal for use on:
Meeting rooms
Restrooms
Workstations (desks, chairs, cash registers)
Desks and furniture
Toys and equipment
Classrooms
Customer areas (dressing rooms, treatment rooms, waiting rooms)
Handles, doors, bars, buttons
Offices and workstations
Public transport
Delivery vehicles
Hotels, spas & gyms
Hospitals
Aircraft
Internal play areas
Lifts and stairwells with limited power supply