What is a Hot Box?
A hot box is a steam generator that produces steam by heating water via the combustion of a fuel source, such as natural gas or diesel.  It is commonly used by commercial pressure-washing businesses as part of an effective cleaning method and is also referred to as a Firebox.
Here is a simplified explanation of how the hot box works:
Water is pumped in through an inlet pipe.
The fuel source ignites inside the combustion chamber, heating up the air inside.
Hot air flows through tubes submerged in the water tank, heating the water.
As the water heats up, it boils and turns into steam.
The steam rises to the top of the tank and is collected by a steam outlet pipe.
The steam can then be used for applications, such as sterilising equipment.
The Mazzoni Firebox uses the process of combustion and heat transfer to convert cold water into steam for many industrial and commercial applications.
The Mazzoni Firebox – A system that has revolutionised the cleaning industry.
Manufactured by the Mazzoni Group, the Firebox is a steam generator for converting cold water into steam for pressure washers. This equipment offers a wide range of environmental benefits, making it an eco-friendly solution to their cleaning needs.
A highly efficient steam generator that converts cold water into steam via a controlled combustion process that burns different fuels, including natural gas, propane, and diesel. The steam produced by the Firebox is used to power pressure washers, which can be used to deep clean surfaces.
The Mazzoni Firebox is highly efficient in comparison to traditional pressure washers that use large amounts of water and chemicals to clean surfaces, highly wasteful and harmful to the environment.
The Firebox, on the other hand, uses a minimal amount of water without the need for harmful chemicals. A highly effective cleaning solution whilst minimising environmental impact.
Mazzoni Firebox versatility.
The system can be used to clean a wide range of surfaces and materials. This makes it a popular choice for industries such as agriculture, food processing, automotive, and more.
The Firebox can be used to clean machinery, equipment, floors, walls, and ceilings, making it a versatile, practical solution for businesses.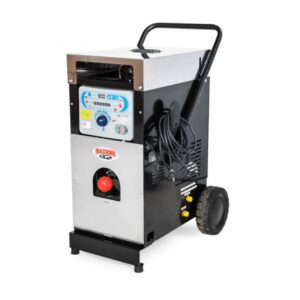 The Mazzoni Firebox is also incredibly safe to use. The system is designed to be highly automated and easy to operate.
A1 Pressure Washers are the UK distributor for the Mazzoni Firebox Range, take a look at the products & accessories available to order online or buy in our Ipswich store.