Description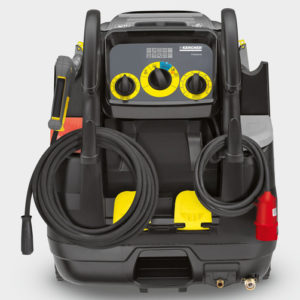 Efficiency
In the Eco setting the unit operates in the most economical temperature range (60°C) with full water flow. Burner cycles are optimised to reduce fuel consumption by up to 20% compared to full-load operation.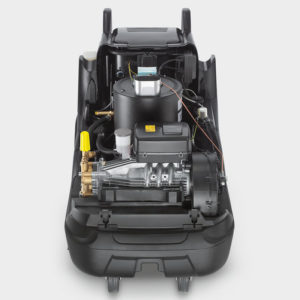 Maximum efficiency
Highly efficient burner technology. 4-pole electric motor with 3 piston axial pump. Water-cooled motor for a high level of performance and durability.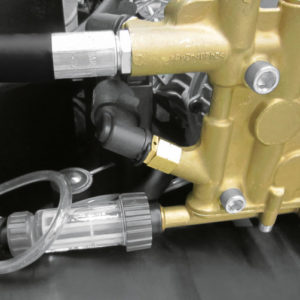 Operational reliability
The large, integrated fine-mesh water filter reliably protects the high-pressure pump against dirt particles. An integrated exhaust gas thermostat switches off the drive motor if the exhaust gas temperature exceeds 300°C. The soft damping system (SDS) compensates for vibrations and pressure surges in the high-pressure system.
The hot water pressure washers of the new middle- and super-class convince with their 5 main features. 1. Environmental protection Greater efficiency with the new ECO mode, service switch for controlling water hardness, turbo fan, precision detergent metering, optimized burner technology and a high-efficiency pump. 2. Cleaning performance Highly efficient cleaning is guaranteed by patented nozzle technology, ceramic pistons, turbo fan as well as increased pump efficiency. Accessories are optimized for specific applications and designed to exactly suit customer requirements. 3. Mobility The mobility concept features two casters, large rubber-tyred wheels, ergonomic handles, lifting points for handling with a forklift, lashing rings and a recessed tread for tilting the machine to guarantee maximum manoeuvrability. 4. Reliability Guaranteed by flue gas monitoring, a corrosion-proof, flexurally stiff, robust chassis, machine protector system, three-piston axial pump with ceramic pistons, heat resistant flue outlet, and much more.
Application areas
Vehicle cleaning
Equipment and machinery cleaning
Workshop cleaning
Cleaning outdoor areas
Service station cleaning
Façade cleaning
Swimming pool cleaning
Cleaning of sports facilities
Cleaning in production processes
Cleaning production system