Which Steam Cleaners Are The Best 2020
Cleaning is one of those tedious chores that you can run from but never hide! So, why not take a literal load off yourself by choosing the powerful cleaning power of steam over regular vacuum cleaners? A traditional vacuum cleaner reaches only surface dust, while steam cleaners are able to clean deep into the carpet base and fibres to remove dirt, allergens, germs and odours. Best of all, they are a friend to the environment as they use no harsh chemicals or detergents at all; just water which turns into steam…
Harnessing steam power makes steamers a cost-effective solution, and they are gentle, safe and natural. They heat up quickly and easily, and effortlessly loosen and dissolve dirt, which means no more scrubbing! With the correct attachment – they can reach and clean every corner of your home, office or any other space you wish to deep clean. Feel free to add essential oils or lemon if you want a nice and fresh scent.
In today's modern world of 2020, we are bombarded with pollution wherever we go. With the addition of Coronavirus, we need to be even more aware about the hygiene and cleanliness of our homes, schools and offices. Heat treatment has shown to be effective in killing Coronavirus. The Government even advises to use a steam cleaner machine to disinfect and sanitise items; especially ones used by multiple people. Steam cleaners can even remove dust mites from mattresses, bedding and pillows.
Karcher has test certificates showing that their steam cleaners kill up to 99.999% of bacteria and viruses, including Coronavirus, with just steam spot cleaning of 30 seconds.
There are three main types of steam cleaner: cylinder steam cleaners, steam mops, and two-in-one steam cleaners which detach to handheld.
But which steam cleaners should you consider? Let's look at which steam cleaners are the best for 2020.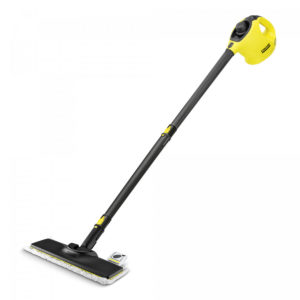 Karcher SC1 Easyfix Handheld Steam Cleaner
The Karcher Handheld Steam Cleaner is the best steam cleaner handheld unit. It is lightweight and comes with a floor mop extension, as well as a variety of multifunctional attachments designed for any household cleaning job. This steam cleaner is sturdy and compact, and scores top marks for versatility. In addition, it gives great cleaning results on all surfaces including flooring, windows, kitchen and bathroom tasks.
Karcher SC3 Upright Steam Cleaner
This high-performance steam cleaning mop has a short heat-up time of just 30 seconds. It is the best steam cleaner for tile cleaning. Thanks to its ergonomic design it is suitable for any person's height. The SC3 upright has a slimline design so it takes up little space, but is still strong enough to tackle all manner of cleaning work! The machine regulates perfect, and there is a removable tank which is easy to refill at any time.
Karcher SC5 EasyFix Premium Steam Cleaner
Sporting an impressive 4.2 bar steam pressure, the powerful top-of-the-range steam cleaner is the Karcher SC5 EasyFix. It is a large cylinder model that comes standard with a variety of accessories, tools, attachments and brushes. The SC5 is recommended for cleaning every part of your home. The high-capacity 1.5L water tank and 0.5L steam boiler reservoir means you won't run out of steam in a hurry. The water tank is completely detachable to facilitate uninterrupted cleaning. Despite the size of the water tank, it heats up quickly in just three minutes, and provides an excellent and steady range of variable steam.
It leaves ceramic tiles and vinyl flooring shiny, without the need to do any scrubbing. Windows and shower stalls are cleaned spotlessly, streak-free and dry fast. It removes stubborn stains that tend to collect on carpeting. Mould and limescale accumulation in the bathroom is also no match for the SC5's superior cleaning abilities. It even sanitises and cleans toilets, and powers away tough grease on oven doors, microwaves, hobs and exhaust hoods.
This unit features VapoHydro technology for tackling even the most stubborn toughest dirt. It works by combining powerful steam with a blast of hot water.
A very useful addition is the steam pressure iron connection. This means it can be adapted into a gentle steam cleaning iron for clothing, fabric, upholstery, tablecloths, curtains and much more. Steam cleaning irons are much gentler on fabrics and faster than normal irons.
Karcher are market leaders in professional quality steam cleaning machines. They boast a vast range, making it easier to know which steam cleaners are best for your specific cleaning needs. They range from light household tasks to heavy industrial usage.
Simply put, a steamer is one of the most valuable investments you'll ever make. Please do not hesitate to contact us if you have any additional questions.