The Best Way of Cleaning Patio Slabs
Patios get exposed to a lot of heavy traffic and rough conditions during their life. As a result your patio slabs will get dirty over time. Exposure to weather, paint splashes, bird droppings and even common foot traffic will all make your patio discoloured and filthy. It is important therefore to know the best way for cleaning patio slabs to get them looking good as new. There are several options you can use in order to get your patio looking clean again. So, here are the best ways for cleaning patio slabs in your backyard.
Cleaning Your Patio with Soap and Water
One of the most basic, but still highly effective, ways to clean patio slabs is with a brush and soapy water. First, clear the patio area of any plants or other objects, or otherwise cover them up if it is not possible to remove them. Make sure to also remove any weeds in the process. Add a cup of soap, either powdered or liquid, in a bucket of warm water and mix for a few seconds. Make sure the soap is safe for cleaning patio slabs before use. Then, pour the contents of the bucket over the entire patio surface and scrub thoroughly with a firm brush or broom. Make sure to get the joints in between the slabs as well. Once the dirt has been removed rinse the area with clean water to reveal a clean and fresh patio.
Cleaning Your Patio with Bleach or Vinegar
For additional results, you can try cleaning patio slabs with either bleach or vinegar. Bleach can make your patio look even brighter while killing off any pesky weeds. Vinegar, on the other hand, is a more natural and environmentally friendly cleaning agent. For bleach, mix one part bleach to five parts water and for vinegar, mix equal parts water and white vinegar (add more vinegar if your patio is particularly dirty). Pour the mix into a watering can and spread it evenly on the patio surface. Leave it to soak for 20 minutes then rinse it off with cold water. Keep in mind that while bleach or vinegar is good at killing weeds it can kill regular plant life as well as damage outdoor furniture or certain surfaces. Therefore, make sure all plants and objects are removed or protected and that your surface can handle the cleaning agent before use.
Cleaning Your Patio with a Pressure Washer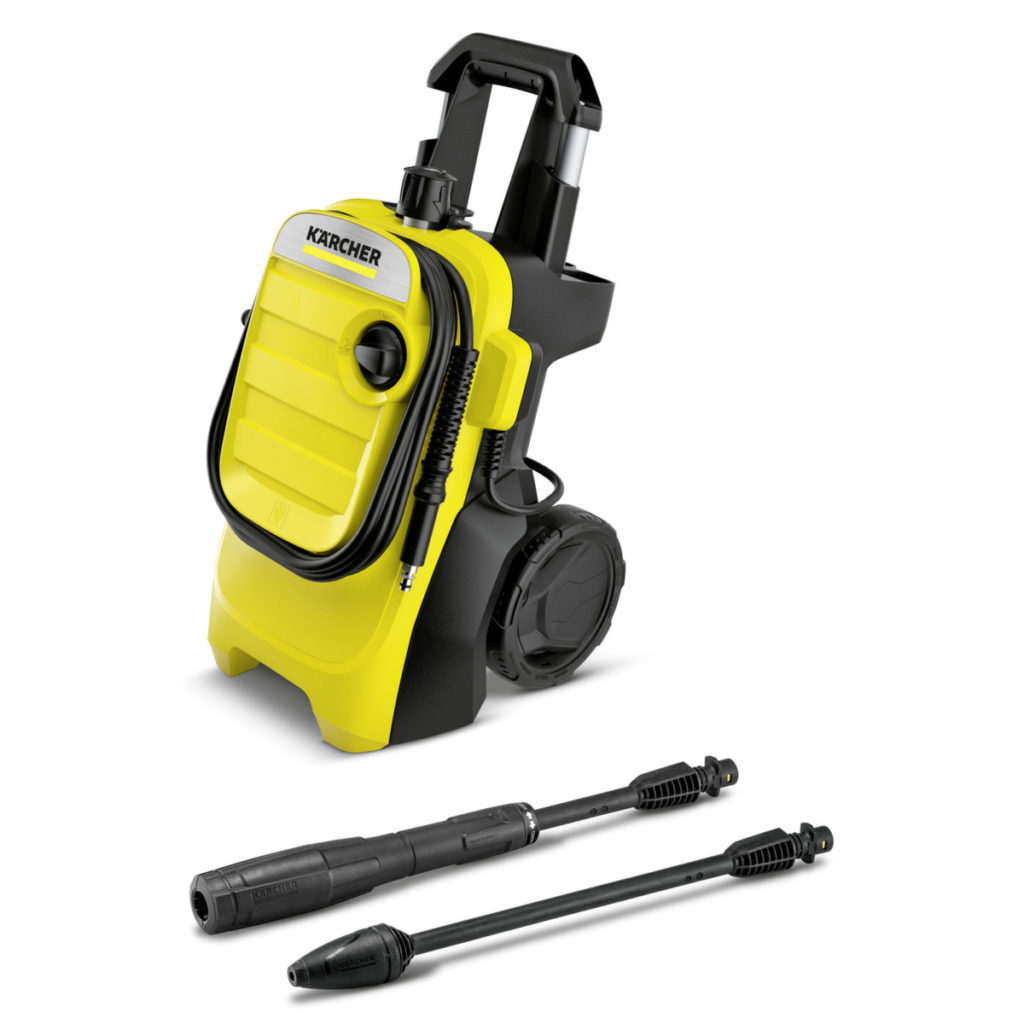 Using a pressure washer is one of the easiest and most effective ways for cleaning patio slabs. However, you should take care as using pressure washers on the highest setting can cause damage to surfaces. First, remove all plants and objects from your patio area including any debris such as leaves and twigs. Connect the pressure washer to a power source and fill it with a cleaning mix, if allowed. Make sure to start washing at the lowest setting first, then switch up to a higher setting if you feel it is safe. Medium pressure should be the highest setting you need to go. Spray in a diagonal angle of between 30 to 45 degrees for best results. Once done, turn off the washer, drain the contents and store it away.
A1 Pressure Washers
Here at A1 Pressure Washers we are one of the leading suppliers of Karcher pressure washers in the region. To browse through our range of high quality Karcher compact pressure washers please browse our online store or get in touch with us today.