Karcher – The Best Steam Mop
If you are a looking for an efficient and non-toxic way to clean your premises then a steam mop is the best option. Steam mops use heated water rather than chemicals to effectively clean and sanitise many types of surfaces including wooden floors, carpets, tiles and more. They can kill over 99% of germs and bacteria leaving your premises clean and hygienic. With many types of steam cleaners out there it can be hard to know which is the best steam mop. Therefore, here are some benefits of using the Karcher Easyfix SC5 steam cleaner and why it is the best steam mop on the market.
Methods of Cleaning Using Steam Mops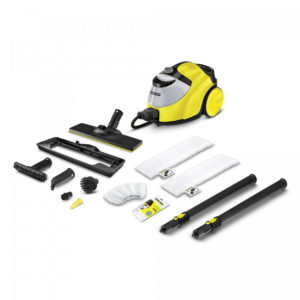 There are a number of ways that steam mops can clean your premises:
Hard floor surfaces such as wood, stone and tile can easily be cleaned using a steam mop with a floor brush attachment.
Steam cleaning can effectively remove dirt from windows while avoiding the risk of streaks or drips of water.
You can clean countertops and kitchen benches with steam cleaners, removing any grease and spills while sanitising the surface.
Carpets and furniture that have become stained over time can benefit from steam cleaning in well ventilated areas.
Steam cleaning can also freshen up curtains and mattresses, helping to get rid of health hazards such as dust mites.
Bathroom surfaces including showers, toilets and sinks can look as good as new when worked over by a steam mop.
These are just a few of the ways that steam mops can clean your premises, both inside and outside.
The Karcher Easyfix SC5 Steam Cleaner
So, what makes the Karcher Easyfix SC5 steam cleaner the best steam mop available right now? For a start, it is more powerful than other steam cleaners and features a host of useful tools and features. It has a large 1.5L refillable tank that pumps water into a pressurised steam tank. The steam mop can reach up to 4.2 bars of steam on maximum setting, delivering an extremely powerful clean. Should a more gentle cleaning job be required the easy to adjust lower settings will safely perform the task.
The steam mop comes with a 6m cord and 2m hose so you can clean even the most difficult to reach areas. Among the many tools you can connect there is a selection of cloth and brush attachments as well as a clip on carpet glider. There is even an ironing station available if you want to steam iron your clothes. All these features help make the Karcher Easyfix SC5 steam cleaner the best steam mop for your money.
A1 Pressure Washers
Here at A1 Pressure Washers we offer a range of excellent cleaning products including the Karcher Easyfix SC5 steam cleaner. We also stock a selection of related products to streamline your cleaning tasks. To find out more about our Karcher Steam Cleaner SC5 visit us online or speak with our friendly team via phone. For the best steam mop you can buy speak with A1 Pressure Washers today.