Used Commercial Pressure Washers for Sale
Are you are looking for a high quality pressure washer for your business at an affordable price? If so, A1 Pressure Washers offer many used commercial pressure washers for sale, to suit all budgets. Used pressure washers have been refurbished to ensure you receive the same level of performance as newer washers. If your pressure washing business has a small budget for equipment purchases, a refurbished commercial pressure washer is the perfect choice. Here are some of the benefits of choosing used commercial pressure washers and why they are the best value in terms of pressure washer prices.
Benefits of Used Commercial Pressure Washers
Choosing used industrial pressure washers for sale will benefit you in these ways: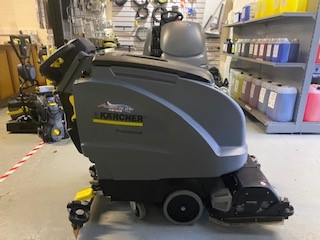 You can save money on a used pressure washer price compared to buying the latest model on the market. Pressure washers from leading brands are built for quality and durability. Older models from these brands will do the same job but at a much lower price.
The factory tests and refurbishes all used pressure washers to ensure there are no faults when they go on sale. If they detect any faults during testing they quickly repair them. They then retest the washer to ensure it performs perfectly.
We source all used pressure washers directly from leading brands in the commercial washer industry. With refurbished models direct from brands like Karcher, Honda, Comet, Mazzoni and Dirt Driver you can be sure you are getting the best products for your pressure washing business income.
Buying used pressure washers helps protect the environment. Less labour and materials are used to create new models, and older models can continue to be used rather than ending up in landfills where they could cause pollution.
You may find that you prefer the features of an older model compared to a newer one. If the manufacturer has ceased making an older version then refurbished models are the best way to continue using these products.
Our Range of Industrial Pressure Washers For Sale
Here at A1 Pressure Washers we have a unique selection of used commercial pressure washers for sale. We have commercial washers from Mazzoni, Karcher and Comet at considerably cheaper prices than new models on the market. The manufacturers have completely refurbished all models so they will perform just like new and provide the high quality cleaning jobs you expect from these brands. They have fully tested all products to make sure they continue to perform well even past the warranty date.
A1 Pressure Washers
At A1 Pressure Washers we offer a wide range of new and used commercial pressure washers for sale. We supply not only commercial pressure washers suitable for any task but also products such as floor cleaners, steam cleaners and a range of products and accessories. To find out more about our range of refurbished pressure washers contact us online or via phone. For the best quality used commercial pressure washers, contact A1 Pressure Washers today.